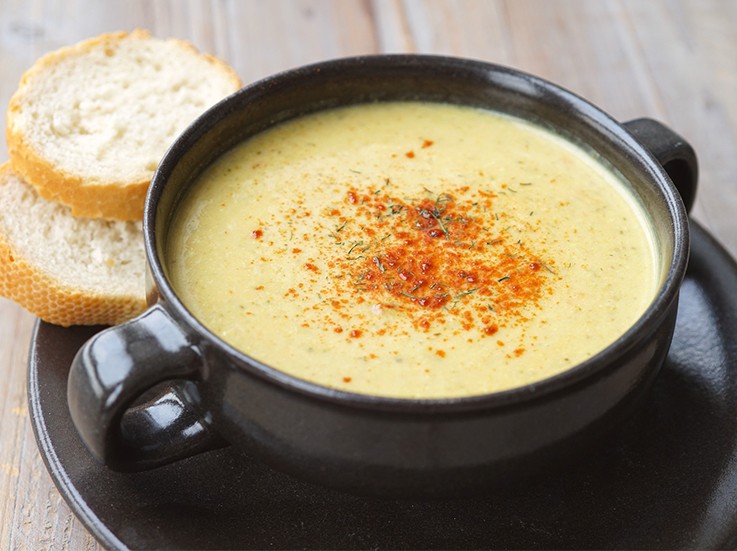 Old-Fashioned Potato Soup
INGREDIENTS
1/4 cup butter
1 large onion, chopped
6 potatoes, peeled and diced
2 carrots, diced
3 cups water
2 tablespoons chicken bouillon powder
ground black pepper to taste
3 tablespoons all-purpose flour
3 cups milk
1 tablespoon Herbs de Provence
DIRECTIONS
First, melt butter in a saucepan over medium heat. Stir in the onion and cook until the onion has softened and turned translucent about 5 minutes. While the onions are cooking, place the diced potatoes, carrots, water and chicken soup base in another pot and bring to a boil. Cook until vegetables are tender, about 10 minutes. Do not overcook. Season with ground black pepper to taste.

Add the flour to the cooked onions to make a paste. Cook, stirring constantly, for 2 minutes. Gradually add the milk and stir well. Cook over low heat stirring constantly until warmed through. Add the potato and carrot mixture. Stir in Herbs de Provence.

Then carefully place mixture in a blender or using a hand blender, blend the mixture until creamy and smooth. You may need to do this in batches. Be careful as the mixture will be very hot. Return creamy mixture to the pot to heat through.

Serve hot. For a little kick, add a pinch of our Hot & Spicy Cajun Spice Blend to each bowl when serving.