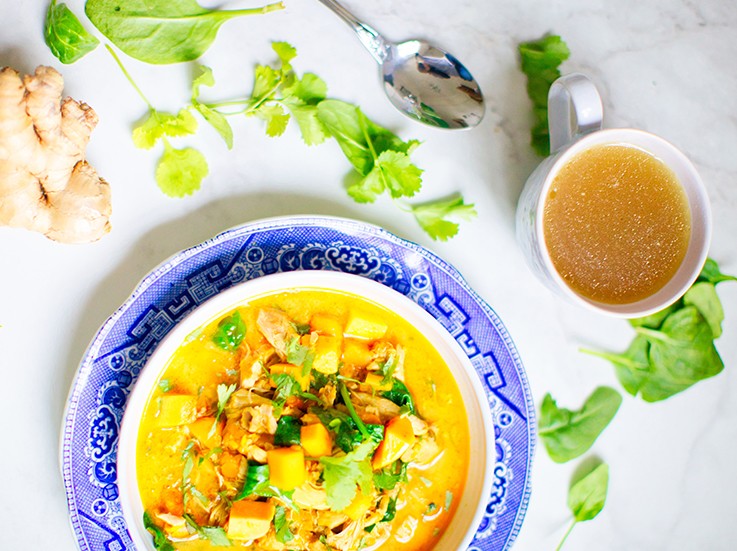 Ginger and Lemongrass Infused Thai Soup
INGREDIENTS
2 tsp coconut oil, divided
1 package of extra firm tofu
¼ cup tamari or soy sauce
1 tbsp agave
1 tsp toasted sesame oil
1 yellow onion, diced
2 carrots, peeled and chopped into coins
1 bunch scallions, chopped and divided into two piles
1 tbsp Thai Style Green Curry Spice Blend
3 cups vegetable broth
1 can full-fat coconut milk
zest and juice of 1 lime
cilantro
peanuts
4 cups cooked rice
DIRECTIONS
Cut tofu into cubes and place them in a medium-sized bowl. Mix tamari, agave, and sesame oil together in a small bowl. In a large dutch oven or soup pot heat 1 tsp coconut oil over medium heat. Pour tamari mixture over cubed tofu and toss to make sure each piece is evenly coated. Add tofu to the hot pan and brown on all sides, about 15 minutes. Remove tofu from the pan and set aside.

Heat the remaining 1 tsp coconut oil. Add onion and carrot and cook until soft and fragrant. Add half of the chopped scallions (reserve the rest for garnish), and Thai Style Green Curry Spice Blend. Cook for 2-3 minutes until very fragrant. Add the stock and coconut milk and bring the mixture to a boil. Once boiling, reduce to a simmer and cook for 15 minutes.

Remove the lemongrass from pan and toss it. Season the soup broth with salt and pepper to taste and add the lime zest and juice. Place a serving of rice in each bowl, pour the soup broth over the rice, and top with tofu, scallions, cilantro, and peanuts. Enjoy!