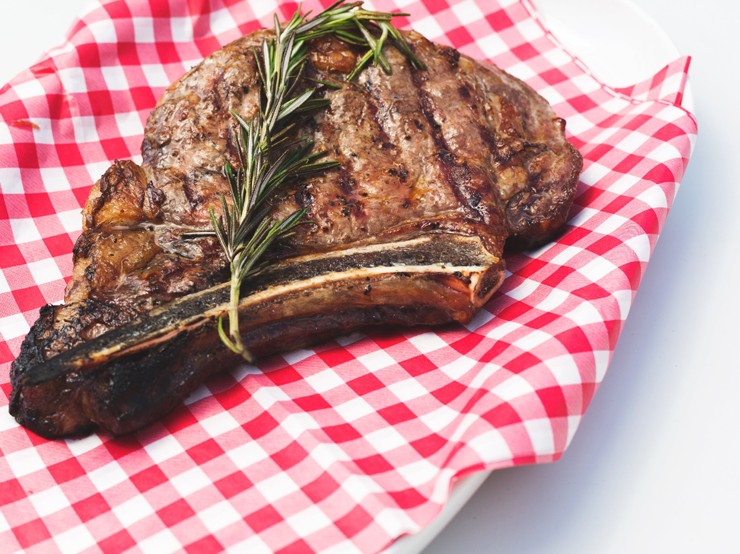 Chili & Lime Grilled Steak Toasts
INGREDIENTS
For the steak:
1 1/2 to 2 pounds flank steak
2 to 3 tablespoons lime juice from 2 limes
2 tablespoons olive oil
3 cloves garlic, grated on a microplane or finely minced
1 teaspoon chili powder
1 teaspoon salt
1/4 teaspoon cayenne, optional for some spicy heat
For the fajitas:
1 medium green bell pepper
1 medium red bell pepper
1 medium yellow bell pepper
1 medium yellow onion
2 teaspoons olive oil
1 teaspoon salt
15 to 20 small corn or flour tortillas
1 tbsp 'The Gourmet Collection' Chili & Lime Spice blend
DIRECTIONS
Place the steak in a 9x13-inch baking dish or other shallow pan. Whisk together the lime juice, olive oil, garlic, chili powder, and salt. Pour this over the steak and turn a few times so it's evenly coated. Cover and refrigerate for at least 1 hour or up to 24 hours. When ready to cook, heat the broiler to high and place a rack a few inches below. Remove the steak from the fridge and set it on the counter to warm while you prepare the vegetables. Cut the peppers in half, and remove the stems and seeds. Peel and cut the onion into rough wedges. Toss the vegetables with olive oil and sprinkle with salt. Lay the vegetables in a single layer on a baking sheet (with the outsides of the bell peppers facing up, like upside-down cups). Broil the vegetables until the tops are charred, 10 to 12 minutes. Remove vegetables as they are done and rearrange the remaining vegetables as needed to char directly beneath the heat. Cool slightly, then cut the vegetables into thin slices and arrange on a serving platter.

Pat the steak dry, but leave as much of the spice rub as you can. Place the steak in the middle of a broiler pan and slide it under the broiler. Cook for 4 minutes, then flip the steak. Cook another 3 to 5 minutes, until the steak is as done as you like: 115-120°F for rare, 120-125°F for medium rare, 130-135°F for medium. (See step-by-step instructions for How To Cook a Flank Steak in the Oven.)

Transfer the steak to a cutting board and rest for 5 minutes. Thinly slice the steak against the grain, and transfer the slices to the platter with the vegetables. While the steak is cooking and resting, warm the tortillas by toasting them in a dry skillet over medium heat for roughly 30 seconds on each side. Keep the warmed tortillas stacked between two clean dish towels.

Serve the fajitas family-style at the table, along with a few of those extra toppings and plenty of napkins!