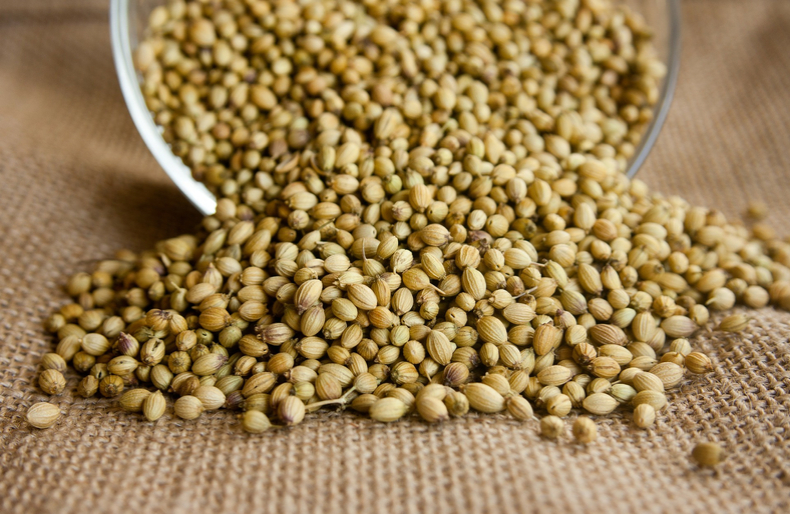 A lesson in: Coriander 
Coriander is an herb in the family Apiaceae. Native to Southwestern Asia and Northern Africa, it is widely used in Mexican, Indian, European and Middle Eastern dishes. Two types of Coriander exist: Moroccan and Indian. Common names for this herb include Cilantro, Chinese Cilantro, Coriander, and Chinese parsley.
Coriander has been recognized for more than 3000 years in southern Europe and for 5000 years in Asia. It was cultivated for medicinal and culinary purposes by ancient Romans and Egyptians. 
Coriander is a short, fast-growing plant that grows best in dry climates.
Coriander has anti-inflammatory and antiseptic properties. It is an excellent source of protein, Vitamin K and C. It has a great amount of potassium and is also a good source of calcium, magnesium and phosphorous. Coriander provides relief from indigestion, skin inflammation, diarrhea, high cholesterol levels.
So how we use this great spice? You can use coriander in the kitchen in many ways. It is often used as curry powder. In fact, coriander is even used to add flavor in several alcoholic beverages! The seeds are used as a spice for pickles, curries, soups, sausages, stews, and ratatouille. Chutneys and sauces are prepared from the young plant. 
Coriander works well with onions, bell peppers, tomatoes, and potatoes.  It pairs well with certain spices such as chili powder, cinnamon, and cumin. Use it to spice up bland vegetables such as spinach or in curries. Sprinkle over a fresh salad. Coriander can also be used in meatballs, meat or to marinate fish.
DanGold offers many blends that feature this great spice. Go for our Hot & Spicy Cajun Style or Spicy Stir Fry if you want a kick. For heart-healthy options go for Roasted Garlic & Red Bell Pepper and Pasta Herb. We are your go-to brand for delicious and fresh seasoning blends.