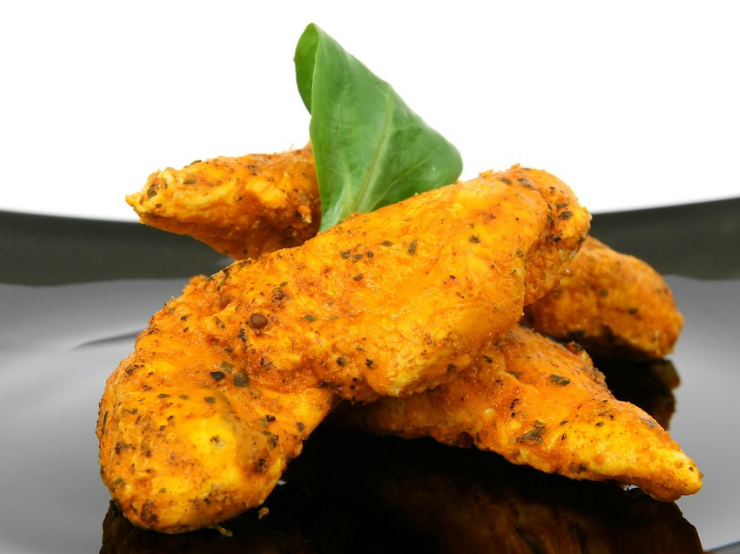 Spicy Crispy Chicken Tenders
INGREDIENTS
1 - 1.5lb chicken breast, cut into long strips
1 1/2 cups buttermilk
2 tablespoons Tabasco sauce
2 cups flour
1 teaspoon garlic powder
2 tablespoons + 1 teaspoon Dragon Head Habanero
1/2 teaspoon black pepper
vegetable oil
DIRECTIONS
In a large bowl, combine the buttermilk, Tabasco and 1 teaspoon garlic powder

Place the chicken strips in the bowl, coating them with the buttermilk mix. Allow them to sit in the buttermilk for at least 2 to 3 hours for best flavor.

One by one, coat the chicken with the remaining Dragon Head Habanero and place to the side. Once all coated, coat each piece once again in the buttermilk and dip in the seasoning mix once again.

Place enough vegetable oil in a high-sided sauce pan to deep fry. Heat the oil to 365 degrees Fahrenheit.

Place the chicken in the oil in batches of 4 to 5 pieces. Fry the chicken until the breading is a golden brown and the chicken is cooked through (typically 3 to 5 minutes).

Remove the chicken from the oil and place the pieces on paper towels to remove excess oil.

Repeat the frying process in batches for the rest of the chicken. Drain off excess oil, then serve.