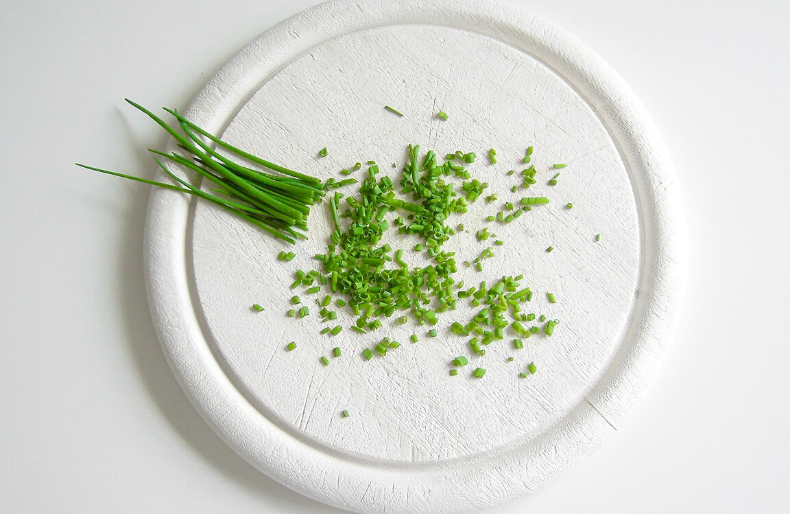 A Lesson In: Chives
Chives are related to garlic, leeks, and onions and are native to Asia, North America, and Europe. It's thought that Marco Polo tasted chives and brought them back home to Europe where people fell in love with their flavor.
This fragrant herb has a milder flavor than onions and garlic. It can be found fresh when in season and the entire chive is edible. You can also find it in dried and frozen forms. Since chives have a milder flavor, they're perfect to add to soups, dips, and omelets. Similar to paprika, heat destroys their flavor, so add chives to dishes at the last minute.
They're frequently mixed with cream cheese to make a savory spread. Chive butter is frequently served with grilled steaks or roasted poultry. Besides its tasty flavor, the bright green color adds visual appeal as well. Combined with freshly-squeezed lemon juice, chives complements seafood and fish dishes. Add to your favorite vinaigrette to give it some zip. And of course, we know chives pair well with potatoes, so try mixing into your potato salad or blended into mashed potatoes.
Don't have fresh chives on you? Fret not! Dried chives still retain a great deal of flavor, and you can find it in many of DanGold's seasoning blends. Our Smoked Paprika Garlic Chili & Chives blend is heart-healthy and sodium-free! Our Pasta Herb blend can be used, as you can guess, on various types of pasta. Want to make curry? Or fried rice? Use our Thai Green Curry blend for that Asian kick.
Chives are good on just about anything. Dried chives make everything a little more exciting, and a little more delicious. So this holiday season, when thinking about what dishes to make and how to incorporate this spice to your list!