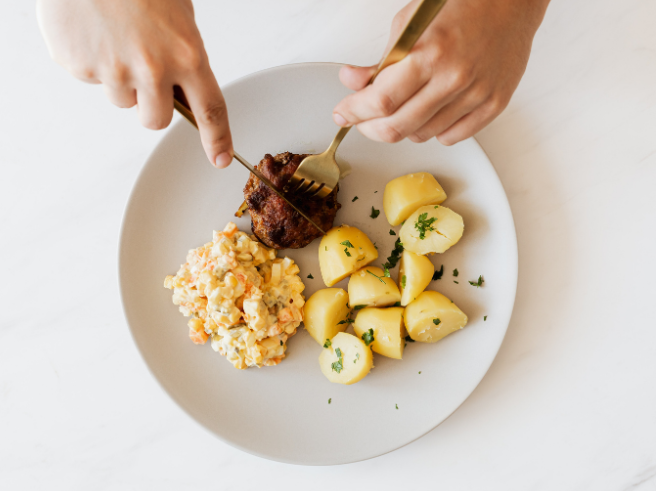 Zesty Cotija Potato Salad
INGREDIENTS
1 cup olive oil
1 ½ lb. baby potatoes
1 medium red onion
1 small green pepper
1 small red pepper
3 large eggs, hard-boiled and coarsely chopped
12 oz Cojita cheese, crumbled
1 tbsp. Dangold Roasted Garlic & Red Bell Pepper blend
2 tsp. Dangold Paprika Lemon & Lime blend
2 tbsp. cornichons
¼ cup chopped parsley
Salt, to taste
Pepper, to taste
For the dressing:
3 tbsp. olive oil
1.5 tbsp. red wine vinegar
2 tsp. Dijon mustard
1 tsp maple syrup
Salt and pepper to taste
DIRECTIONS
First, hard-boil your eggs. That's the step that will take the longest 😊

Heat your grill to medium-low.

Cut baby potatoes into halves or quarters, then mix with salt, pepper, Dangold Roasted Garlic & Red Bell Pepper blend, and ⅓ cup of olive oil. Spread them out evenly on a baking pan, then heat over the grill while you perform the next step.

Roughly chop the peppers and onions before tossing them with mustard, salt, pepper, Dangold Paprika Lemon & Lime blend, and ⅔ cup olive oil. Then, pour the mixture evenly over evenly over the potatoes. 

Cook for 15 minutes, turning everything halfway through. While waiting, make the vinaigrette dressing.

Once the vegetables are grilled to your satisfaction, remove them from the grill and mix them together with chopped eggs and Cojita cheese.

Drizzle with dressing, then garnish with cornichons and parsley. 

Serve as a delicious dish to grilled steaks or kebabs, and enjoy!