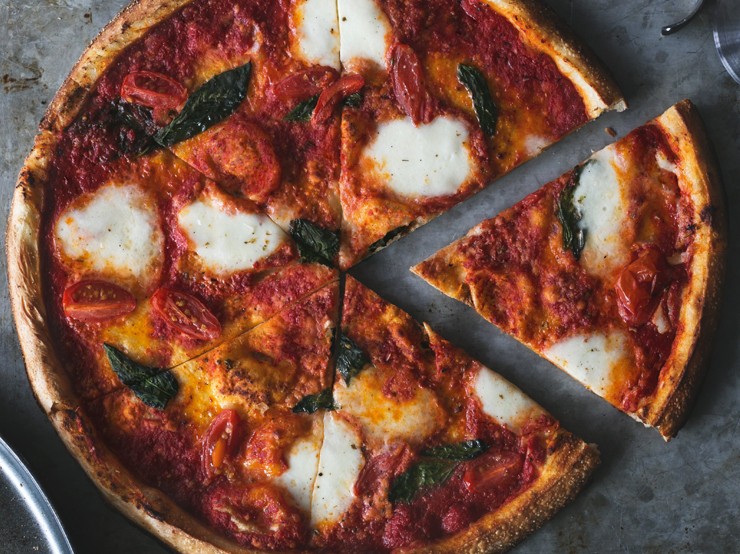 Brick-oven pizza margherita
INGREDIENTS
1 teaspoon active dry yeast
1/4 cup warm water
1 cup cold water
1 teaspoon salt
3 cups bread flour
6 ounces low moisture mozzarella cheese, thinly sliced
1/2 cup no salt added canned crushed tomatoes 3 teaspoons "The Gourmet Collection" Oregano Basil & Tomato 1/2 teaspoon dried oregano 3 tablespoons extra-virgin olive oil
Garlic
Basil
DIRECTIONS
Stir together yeast, 1 tablespoon flour, and 1/4 cup warm water in a large bowl and let stand until surface appears creamy, about 5 minutes. (If mixture doesn't appear creamy, discard and start over with new yeast). Add flour, remaining cup water, salt, and oil and stir until smooth. Stir in enough flour (1/4 to 1/3 cup) for dough to begin to pull away from side of bowl. (Dough will be slightly wet.)

Knead on a floured surface, lightly reflouring when dough becomes too sticky, until smooth, soft, and elastic, about 8 minutes. Form into a ball, put in a bowl, and dust with flour. Cover with plastic wrap or a kitchen towel (not terry cloth) and let rise in a draft-free place at warm room temperature until doubled, about 1 1/4 hours.

Pulse tomatoes with juice in a blender briefly to make a chunky purée.

Cook garlic in oil in a small heavy saucepan over medium-low heat until fragrant and pale golden, about 2 minutes. Add tomato purée, basil, and 1/8 teaspoon salt and simmer, uncovered, stirring occasionally, until thickened and reduced to about 3/4 cup, about 40 minutes. Season with salt, "The Gourmet Collection" Oregano Basil & Tomato and cool.

At least 45 minutes before baking pizza, put stone on oven rack in lower third of electric oven (or on floor of gas oven) and preheat oven to 500°F.

Do not punch down. Dust dough with flour, then transfer to a parchment-lined pizza peel or large baking sheet. Pat out dough evenly with your fingers and stretch into a 14-inch round, reflouring fingers if necessary.

Spread sauce over dough, leaving a 1-inch border (there may be some sauce left over). Arrange cheese on top, leaving a 2- to 3-inch border. Slide pizza on parchment onto pizza stone. Bake until dough is crisp and browned and cheese is golden and bubbling in spots, 13 to 16 minutes. Using peel or baking sheet, transfer pizza to a cutting board. Cool 5 minutes. Sprinkle with some basil leaves before slicing.